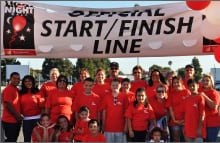 Enthusiastic walkers from Cardinal Property Management prepare to "Light the Night" with thousands of volunteers in support of the Leukemia and Lymphoma Society at Angel Stadium in Anaheim. Walkers sought pledges to support critical programs for cancer patients and research toward a cure. Cardinal made individual and team donations.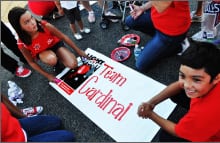 The Cardinal kids create the team banner to be carried in honor of those who fought cancer and remain in our hearts, those who are fighting, and all who are helping advance research by raising funds for a cure.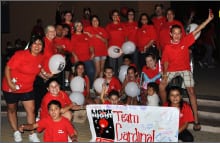 Proud of their accomplishment, the team celebrates at the end of their 5K trek around and through Angel Stadium.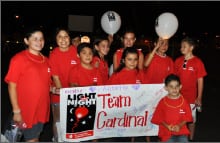 For 30 years, Cardinal's code of honor has been aligned with Winston Churchill's philosophy that "We make a living by what we get, we make a life by what we give." The firm passes this belief on to the next generation, the Cardinal kids.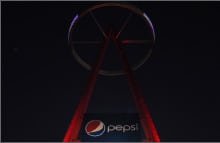 Angel Stadium in Anaheim, played host to thousands of angels who walked 5K to raise funds toward finding a cure for a variety of cancers.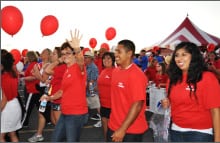 Cardinal CEO Susan Naples leads Team Cardinal on its 5K journey around and through Angel Stadium.