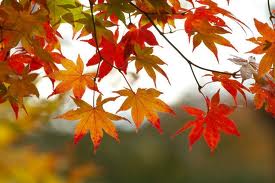 Written by Farrah Esquer, CCAM, CMCA, AMS, PCAM, President
Fall is quickly approaching and it is time to start thinking about those Fall landscape projects.  Fall brings a relief to the hot months of summer and the never-ending weeds.  Plants and weeds begin to show slower growth which cuts down the amount of time spent on pruning and pulling and allows time for more detailed, detailing and other projects.
General Maintenance
Hedge trimming that is oftentimes the most efficient way to keep up with the plant growth in the summer months can be replaced with lacing and hand-pruning of shrubs to give a more natural look.  Time can also be spent completing an irrigation audit and making the necessary adjustments to prevent overwatering and watering of hardscape.  This is also an opportune time to evaluate the irrigation system to determine if an irrigation retrofit is needed to separate plant areas from lawn areas to reduce water usage.  Laying mulch in planters and around tree bases helps to retain moisture in the ground during the Fall which allows irrigation to potentially be shut off for extended periods of time, due to the cooler weather.  Annual color at monument signs and other select areas can be replaced with Fall color in shades of orange, gold, and yellow.
Lawn Care
Fall is also the time when the summer lawns start dying out and need to be replaced with winter lawn.  This typically requires dethatching and overseeding the lawn with perennial rye.  In lieu of dethatching, aerating the lawn prior to overseeding may be an option in some circumstances.  Speak with your landscape company on whether the common area lawn can benefit from either dethatching or aerating.
Tree Trimming
Most species of trees can benefit from trimming during the cooler Fall months, especially the sap-producing trees like pine trees.  Be sure to request proposals for tree trimming in advance, if your community is not on an annual tree trimming contract and cycle.  As with shrubbery, the growth of trees slows during the Fall months which makes it an opportune time to complete lacing and trimming.  Trimming and lacing should be completed prior to the Spring when growth begins to increase rapidly and when the birds begin to build nests and lay their eggs.  Remember, many birds and nests are protected and cannot be disturbed. Setting up an Annual Tree Trimming schedule can benefit the health of the tree and prevent hazardous situations for people and objects by preventing falling limbs.  Carrotwood trees, Ficus trees, and Coral trees should be trimmed annually.  Tristania trees and Sycamore trees can be trimmed every other year and pine trees should be laced every three years. Happy Fall!
Thank you to Leslie Hogbin at Harvest Landscape for providing the information presented in this article.  To learn more about Harvest Landscape, visit their website at
http://www.hlei.us/
.