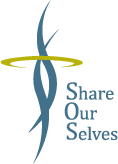 As with all their charitable endeavors, Cardinal team members throw their hearts and hands into its annual Share Ourselves (SOS) Adopt A Family program. Cardinal has been supporting this worthy organization for many years. This year, we're inviting all who read this to join us. Whether you're a business partner, a Board member, a member of a community association, or simply a fan of reading about Cardinal, you are invited to join us in helping to ensure that hard-working but struggling families in Orange County receive gifts, clothes, and food for the holidays. Cardinal's family this year is a humble family that has for only necessities. That tells us how much they need us. Both the father and mother are employed and earn minimum wage but the salaries do not keep pace with today's rising costs. Both salaries go toward rent, utilities, and very basic food needs. There is no money left for clothes or shoes, and certainly not for the extravagance of even a single toy for any of their four children. They have three girls whose ages are 3, 4, and 5, and one boy who is 14. If you have what you need with a little to spare, Cardinal's family needs your help.
Father Pedro needs large shirts, size 34 pants, and no-slip shoes (required for work).
Mother Juana needs large shirts, a warm sweater, size 12 pants, and no-slip shoes (required for work).
3-year old Nicole needs shirts (size 4T), pants (size 3T), and shoes. She likes Monsters, Inc. and Spiderman.
4-year old Kaytlin needs shirts (size 4T), pants (size 4T), and shoes. She likes Disney Princesses and Little Mermaid.
5-year old Briana needs medium shirts, size 5 pants, and shoes. She likes Mickey Mouse and Cinderella.
14-year old Mario need large shirts, size 30 pants, and shoes. He likes basketball.
Gift cards to Shoe City and Walmart will allow the family to select their correct sizes. Gift cards to local grocery stores will enable them to divert some of their food budget to a utility or other bill. Donations of very gently used sweaters, sweatshirts, jackets, blankets, and other bedding will be gratefully accepted as well. While we know how important it is to have warm clothing and proper shoes, we also know the boundless joy that a new toy can bring to a child, especially at Christmas. If you are able to donate, this family and Cardinal Property Management will be forever grateful for your generosity.
Donations are due to Cardinal at 1290 North Hancock Street, Suite 103, Anaheim, 92807 by Wednesday, December 18, 2013.
Since its inception, Share Our Selves has helped families in need of extra support during the holidays. This holiday season marks the 44th year of the SOS Adopt A Family Program. This wonderful holiday tradition supports many struggling Orange County families by providing gifts and food for the holidays. According to the SOS organization, many of these families work multiple jobs to provide for their children, but unforeseen circumstances—reduced hours, sudden illness, a death in the family—make it nearly impossible to celebrate the holidays. Oftentimes, the Christmas wishes are as simple as clothing, diapers, blankets, and extra food. It's not uncommon for an older child to ask nothing for himself, in exchange for toys for a younger sibling. A little help goes a long way in bringing smiles and joy to those who would otherwise go without this season.