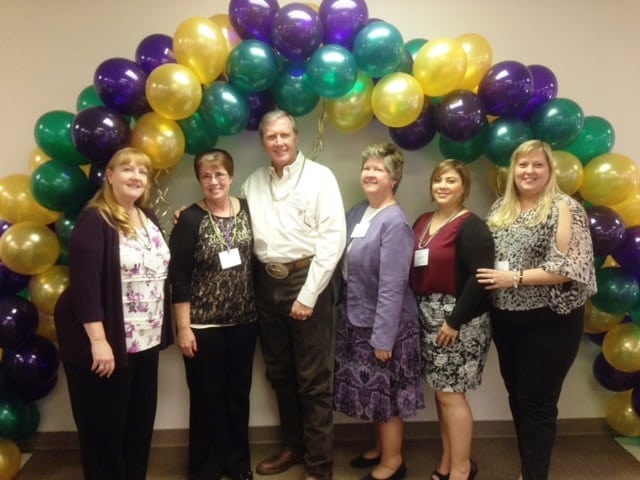 No, we are not talking about the Academy Awards but we are talking about the Oscars of our Industry. Please join Cardinal Property Management in congratulating our superlative staff members who are nominated for the Orange County Regional Chapter of Community Associations Institute (CAI-OCRC) esteemed annual awards. Karen Holthe, Senior Account Manager and Director of Property Management, is nominated for Manager of the Year in the veteran category and for the Outstanding Service award. Karen's service to CAI and Cardinal are superb. Theresa Hirschman, Senior Account Manager, has been nominated for Outstanding Service and Speaker of the Year awards. We applaud Theresa and her dedication to Cardinal and our industry. Charles (Chuck) McNeese, a long-time resident and board member of Orange Park Community Association (one of Christine's client Associations) is nominated for Board Member of the Year. Janet Mehan, Account Manager, is nominated for Manager of the Year in the veteran category for her dedication to her client Associations, CAI, and Cardinal. Christine Santisteban, Account Manager, is nominated for Manager of the Year in the rookie category and for CAI's Innovative Management award. Christine's allegiance to her client Associations and to innovative solutions is unparalleled. Maryanne Hurley-Cicconi, Account Manager, is nominated for the Outstanding Service award. Maryanne is solidly committed to her client Associations, CAI, and Cardinal. John MacDowell of Fiore, Racobs & Powers, is nominated with Theresa Hirschman as Speaker of the Year. We congratulate all nominees and look forward CAI's annual award dinner in early February. Good luck, everyone!  Although in our book, you're already winners!  
---
Karen Holthe
Karen Holthe, Senior Account Manager and Director of Property Management at Cardinal Property Management, serves on the CAI-OC Education Committee. She is a dedicated manager instructor who taught CLTP series of courses in 2014 and served as a backup instructor. Her classes are always well attended and her course evaluations consistently produce outstanding ratings. Karen has spent her professional career dedicated to education. Prior to her employment with Cardinal, she spent more than a decade training volunteers with the Boy Scouts of America. Karen volunteers to be on CAI's Education Committee because she believes that "education helps community volunteers to become successful board members and that helps build successful communities."  When she helps people understand that there is a clear path to managing their communities according to state laws and the laws of ethics, Karen considers herself a success. "Teaching courses through CAI-OC helps me feel successful because I'm helping others gain the knowledge necessary to help their homeowners and communities."  In addition to taking care of her myriad accounts at Cardinal, Karen volunteers her time to help Cardinal raise funds for its largest philanthropic organization, the Leukemia & Lymphoma Society.  Karen is also diligently working on earning her PCAM designation.
Theresa Hirschman
Theresa Hirschman, Senior Account Manager at Cardinal Property Management, holds the professional designations of CMCA, AMS, and PCAM. Her continued dedication to CAI-OC is evidenced in her ongoing support through many years. Currently, Theresa actively serves on the Manager Support, Outreach, and Education Committees. After auditing all of the Community Leadership Training Program classes, Theresa now teaches the CLTP courses to board members, managers, and community volunteers. Theresa also serves on the Outreach Committee (she was instrumental in leading the Book Doctors project in 2014) and has served on the Community Manager Support Committee as well.  Theresa's commitment to CAI-OC has been unwavering over the many years she has been a member. She continuously encourages the Directors of her Associations to become part of CAI and explains how their membership and participation can enhance their knowledge of everything from parliamentary procedure to how to collect on delinquent accounts. She is a walking advertisement for the benefits of CAI membership to the Directors, communities, and homeowners of her client Associations. Theresa Hirschman and John MacDowell co-instructed a vitally informative seminar at CAI-OC's Annual Spring Forum to board members, community managers, homeowners, and industry professionals about the inner workings of association elections and how to avoid some of the pitfalls. The seminar, "Elections, Votes, Recalls: What Can Go Wrong Will Go Wrong" was part of annual spring education seminars and trade show. The educational sessions are specifically geared to the community association manager and volunteer board member to aid in the smooth running of the election process. As a member of CAI-OC's Education Committee, Theresa considers it her personal duty to help board members understand the myriad tasks, sensitive relationships, and complex network of living and thriving in a successful Association.  Both Theresa and John received compliments and accolades from seminar attendees, who told them that the information was "priceless" and their presentation helped them "understand exactly how to run a fair and ethical election."
Charles (Chuck) McNeese
Charles (Chuck) McNeese, a long-time resident and 4-year board member of Orange Park Community Association, worked diligently with a consultant and a landscape company (Bemus Landscape, Inc.) as a liaison among the residents of 237 homes of Orange Park, the consultant, and Bemus during their large-scale turf replacement project designed to curtail the Association's water use during California's dire drought. Director McNeese not only worked with the consulting company and Bemus every day, he gave each resident of Orange Park his personal phone number and an invitation to call him any time night or day so that he could answer questions and educate the residents about the purpose and scope of the project and to field complaints about the loss of turf and removal of all irrigation around their lake. It was a sensitive and complex project, and due to Mr. McNeese' dedication and hard work, the residents gained a clear and ongoing understanding of the work being performed for the Association. By the end of the first phase, 168,000 sq. ft. (approx. 4 acres) of turf had been removed and the associated irrigation had been shut off and removed. Mr. McNeese is now drafting a plan to replant the area with drought-tolerant plants. His daily work with the residents and vendors was instrumental in the successful completion of Phase 1 of this project. Mr. McNeese goes beyond serving his community and the board on a project-by-project basis. He also serves as the liaison to the board for the Stables, Lake, Landscape, Pool and Patrol Committees.
Janet Mehan 
Ms. Mehan began her career at Cardinal in 2008. She holds the professional certification of Certified Manager of Community Associations (CMCA) and the Association Management Specialist (AMS) from the Community Associations Institute (CAI). Ms. Mehan holds a Bachelor of Science degree from California State University at Long Beach.  Janet manages a portfolio of accounts consisting of single family homes, condominium and townhomes in which she is dedicated to providing superlative service and expertise.  Ms. Mehan also serves on CAI-OC's Mini Trade Show Committee in which she plans and prepares the table centerpieces for the mini trade shows based on the theme of the education program.  She actively supports CAI's education program for both community managers and community association volunteer leaders and encourages her client Directors to attend education programs and become members of CAI.  Janet also assists Cardinal in its philanthropic efforts by volunteering for fundraising events to raise funds for the Leukemia & Lymphoma Society.
Christine Santisteban 
Christine Santisteban has been a high contributor with Cardinal for nearly 5 years. She started as an Administrative Assistant and gained knowledge and experience of the industry from within the company, and was promoted to Account Manager in 2011. She is proud to hold the professional designation of Certified Manager of Community Association, and was nominated for CAI-OC's Rising Star Award for 2011. Christine manages a widely diverse portfolio. She oversees the management of such unique environments as stables, fishing lakes, and equestrian trails.  Christine is a member of CAI-OC's Outreach Committee and has spent innumerable hours in support of CAI's philanthropic endeavors, such as the annual toy drive. Bringing her Outreach experience with CAI into Cardinal, Christine leads Cardinal's team for charitable fund-raising. She heads up the annual activities to benefit the Leukemia & Lymphoma Society, an organization Cardinal holds dear due to the number of Cardinal employees and family members who are fighting or have lost their battle with blood cancers. Christine manages a concert/dance, a Cinco de Mayo function, and a Bingo and silent auction party with clients, vendors, and business associates throughout the year. All the fund-raising culminates in Cardinal's ultimate activity, the annual Light the Night walk at Angel Stadium in memory of all. Throughout 2014, Christine worked hand-in-glove with one of her Board members, a consultant, and a landscaping company to remove 168,000 square feet of turf and an outdated irrigation system in one of her client Associations. She worked with the Board member to keep homeowners well informed, thus supportive of the massive project. Due to the dire drought conditions in California, the Association approved the removal of four acres of turf. Working with the Municipal Water District of Orange County, Christine was part of the team that helped the Association receive $185,709 in reimbursement funds for the project. Now in its second phase, Christine is working with the same team to identify and place drought-tolerant ground cover and plants in the area.
Maryanne Hurley-Cicconi 
Maryanne Hurley-Cicconi has been a member of the Cardinal Property Management team for more than 8 years. She has diligently served on CAI-OC's Programs Committee for five years and has been Co-chair for three years. Due in part to Maryanne's dedicated efforts with the Programs Committee, the educational luncheons were often sold out, received outstanding reviews, and were among the largest in the state. As Co-chair, Maryanne volunteers her time and energy to ensure that the coordinators for the luncheons have met their deadlines, provided Powerpoint presentations and outlines on timed, and has filled in for coordinators on many occasions. Maryanne continuously encourages the Board members of her client accounts to join CAI-OC by illustrating how CAI-OC can help them first learn to operate as effective Board members then to continue to build on their new-found knowledge. Maryanne has been responsible for recruiting countless members to join CAI-OC, and considers it part of her day-to-day duties to advertise the benefits of CAI membership. Maryanne received 2013's Manager of the Year award in the Portfolio Category from CAI-OC. She is an exemplary member.